Dec 10 2018
The President's Award to encourage the research of young faculty members was enacted in 2014 to honor young researchers with remarkable research results, nurture excellent young researchers who will be responsible for future academic research, motivate them in their research and contribute to improving the research standard of Niigata University.
Five teachers were selected for the 5th President's Award and the award ceremony was held on Tuesday, November 27. Their names are below.
We will continue to honor excellent young researchers and improve the research standard of our university.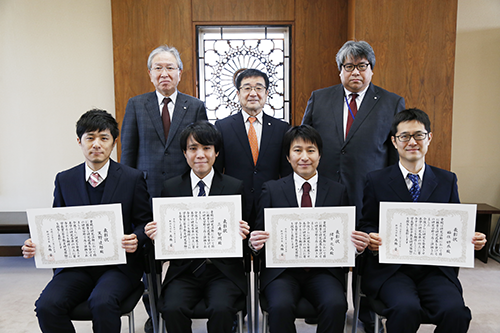 Back row from the left: Hitoshi Takahashi (Executive Vice President), Sugata Takahashi (President) and Toshihiko Hirai (Director of Research Planning Promotion)
Front: The winners
Name
Affiliation, Title
Thesis title
Tatsuro Amano
Institute of Humanities and Social Sciences,
Associate Professor
1. Evidence for β-adrenergic modulation of sweating during incremental exercise in habitually trained males
2. Do nitric oxide synthase and cyclooxygenase contribute to sweating response during passive heating in endurance-trained athletes?
Tomoaki Miura
Institute of Science and Technology,
Assistant Professor
Magnetic Control of the Charge-Separated State Lifetime Realized by Covalent Attachment of aPlatinum Complex
Genki Ogata
Institute of Medicine and Dentistry, Specially Appointed Lecturer
A high-density linkage map with 2560 markers and its application for the localization of male-sterile genes ms3 and ms4 in cryptomeria japonica D.Don
Yoshiyasu Fukusumi
Institute of Medicine and Dentistry, Associate Professor
Nephrin-Binding Ephrin-B1 at the Slit Diaphragm Controls Podcyte Function through the JNK Pathway
Nobuko Ohashi
University Medical and Dental Hospital, Assistant Professor
Acetaminophen Metabolite N-Acylphenolamine Induces Analgesia via Transient Receptor Potential Vanilloid 1 Receptors Expressed on the Primary Afferent Terminals of C-fibers in the Spinal Dorsal Horn