Jul 02 2021
Niigata University Asahimachi Museum (hereinafter referred to as the "Museum") held a renewal ceremony on June 18 to commemorate reopening of the Museum after the completion of its renovation work. The Museum was built in 1929 as the Memorial Hall of Niigata Teacher's School to commemorate the 50th anniversary of the founding of former Niigata Teacher's School, which is one of the predecessor schools of Niigata University. The Museum is one of the oldest existing reinforced concrete buildings in Niigata City, and is designated as a Registered Tangible Cultural Property of Japan.
Due to the problems such as the deterioration of the building, the exterior and other parts of the building have been under restoration since last November with a help of subsidy of FY 2020 Cultural Resource Utilization Project Fund, which was granted by the Agency of Cultural Affairs of Japan. Using the original blueprints and old postcards as reference, the renovation has been completed, and the ceremony of reopening was held with a small group of eight people with a view to preventing the spread of the novel coronavirus infection.
After the opening remarks by Mr. TANJI Yoshihiko, Director of the Museum, President USHIKI Tatsuo thanked the people who involved in the renovation work, and expressed his expectations for the future of the Museum. Followed by the greetings, a tape cutting ceremony was held in front of the Museum, and an honored guest, Mr. ENDO Kazunori, Director of the Historical and Cultural Assets Preservation Division of the Culture and Sports Department of Niigata City, President USHIKI Tatsuo and Mr. SAWAMURA Akira, Director of the Institute for Academic Information participated in it.
After the ceremony, a museum tour was held for participants and the press, and Mr. TANJI, Director of the Museum, explained about the features of permanent exhibitions, which are "Footsteps of Nature and Technology" and "History of Mankind." Following the explanation, Mr. SUZUKI, Director of Sakeology Center, gave a briefing on a special exhibition, "Exhibition of Sakeology," which are held to commemorate the reopening of the Museum, and there were lively questions from the participants.
The Museum will continue to hold various types of special exhibitions and events in order to publicize the valuable academic materials and research results of Niigata University.
Director TANJI giving opening remarks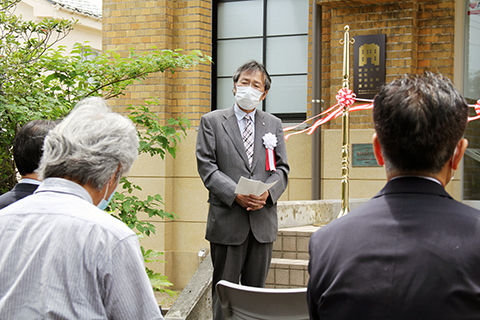 President USHIKI making an address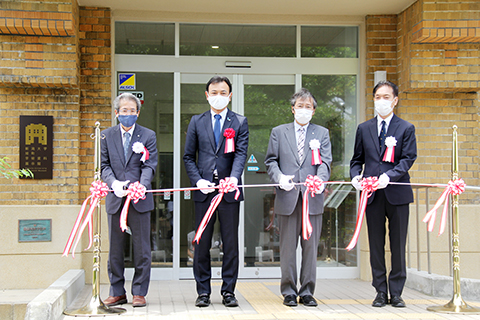 President USHIKI (second from right) and other participants cutting the ribbon.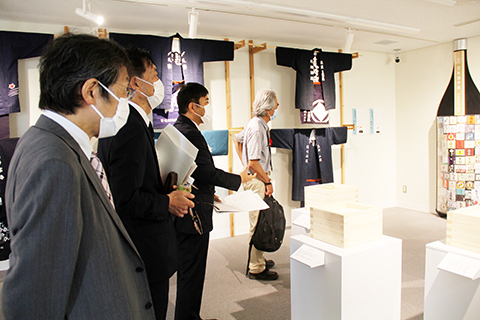 Museum tour of the special exhibition, "Exhibition of Sakeology"