Jul 29 2019
Niigata University has an Infectious Disease Research Center inside the National Health Laboratory (NHL) in Yangon, the biggest city in the Republic of the Union of Myanmar. This Center functions as an overseas research base for the Japan Initiative for Global Research Network on Infectious Diseases (J-GRID) of the Japan Agency for Medical Research and Development (AMED).
The Niigata University Faculty of Medicine has signed a Memorandum of Understanding (MoU) with the NHL, at the latter's request. In 2005, we had previously signed a different MoU with the Ministry of Health and Sports (MoHS) in Myanmar, which was experiencing various difficulties at the time. With the support of a Cultural Grassroots Project Assistance Grant from the Japanese embassy in Myanmar, we brought equipment and effected a technology transfer for research and investigation into influenza. As a result, the NHL obtained WHO certification for their National Influenza Center in 2008. Thanks to our ongoing international cooperative research activities in Myanmar, Niigata University was chosen to work on the J-GRID program for a five-year period starting in2015. In the NHL in Yangon, we established a research center with some of our faculty on staff, in order to investigate and do research on respiratory and pediatric diarrheal infections. In 2017,during the influenza epidemic we provided emergency diagnostic equipment and technical support as requested by Myanmar's NHL. The MoHS praised this equipment and support, and as a result the NHL has now asked us to work with them to improve their medical infrastructure, as well as to develop effective measures to help them deal with infectious diseases in the future.
The MoU signing ceremony had originally been scheduled for Monday, July 8. However, the Myanmar Union Minister for Health and Sports suddenly requested a private meeting on that day with Prof. Reiko Saito (the project leader, specializing in International Health Studies) and Prof. Akihiko Saitoh (who specializes in Pediatrics). Furthermore, as Prof. Toshiyuki Someya, the Dean of the Faculty of Medicine, was also in Myanmar at the time, it was decided to hold the signing ceremony on Sunday, July 7 instead. The signing ceremony, at which the Myanmar Union Minister of Health and Sports was also in attendance, was given detailed coverage nationwide by Myanmar's TV stations and newspapers (both in Burmese and in English), together with descriptions of the work that Niigata University had previously been doing in Myanmar.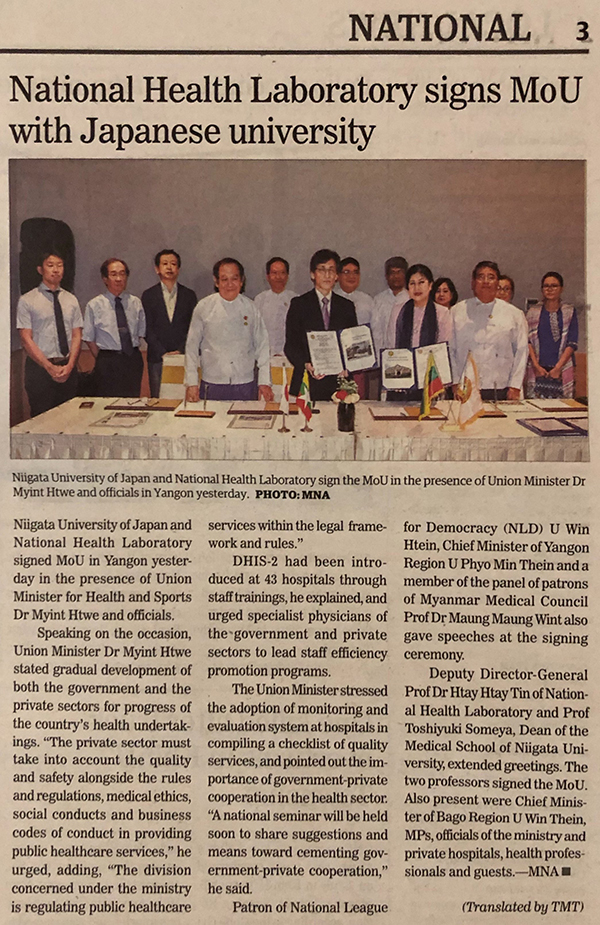 The Global New Light of Myanmar (July 8, 2019)


Center,left:Prof. Toshiyuki Someya, Dean of the Niigata University Faculty of Medicine Center, right: Dr. Myint Htwe, Myanmar Union Minister of Health and Sports
A ceremony to celebrate the signing was then held the next day as originally scheduled, on Monday, July 8. Profs. Reiko Saito and Akihiko Saitoh delivered lectures for this occasion, and the large number of people in attendance all seemed to be listening very carefully.
In addition to its infectious disease research in Myanmar, the Niigata University Faculty of Medicine is also planning to hold a joint public lecture series together with the Research Institute for Microbial Diseases (RIMD), Osaka University, in January 2020. This lecture series will also be intended for Japanese employees of Japanese companies in Myanmar (as there has recently been a significant increase in their number). Hopefully this lecture series will act to further deepen the friendly relations existing between Japan and Myanmar.
| | |
| --- | --- |
| Prof. Reiko Saito giving a presentation | |