<Note>
This flow chart doesn't apply to Japanese Government Scholarship Students and JICA Program Students. For details, please refer to Scholarships.
<Important>
- In general, many international students enroll from six months to one year as "Research Student" to conduct research under the guidance of their academic supervisors before enrolling in Graduate Degree Programs.
(BUT the supervisors may allow international students to take an entrance examination without being "Research Student".)
- The majority of the courses in our Graduate Degree Programs are conducted in Japanese. Graduate Degree Programs offered in English are as follows:
[Master's Degree Program]
The Course of International Society in Master's Program of Society of Law and Politics at Graduate School of Modern Society and Culture
[Doctoral Degree Program]
All Majors at Graduate School of Science and Technology
All Majors at Graduate School of Medical and Dental Sciences (Medicine/Dentistry)
- Some Master's and Doctoral programs require Japanese proficiency as they are not conducted entirely in English.
Flow Chart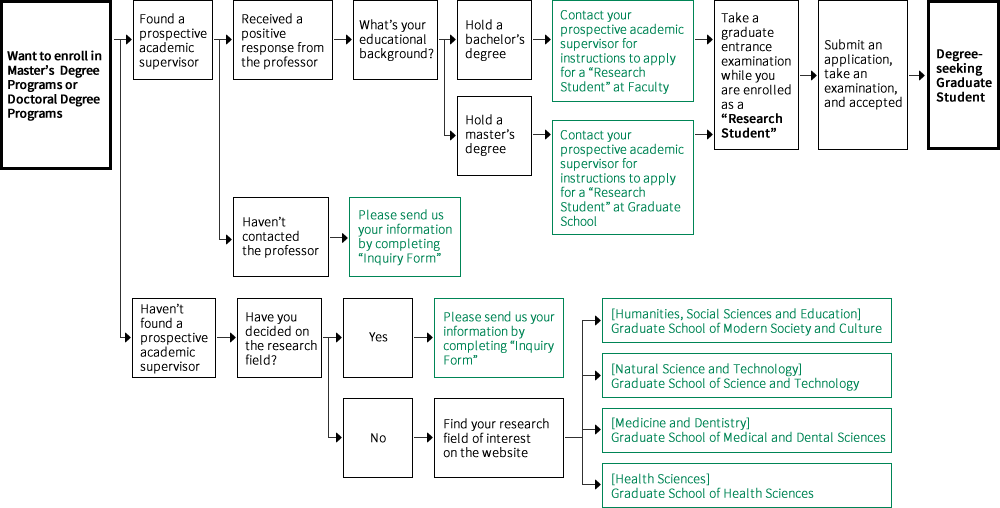 Links
If you cannot click the green button in the above Flow Chart, please refer to the link below.
Non-Degree Programs(Research Student)
Degree Programs(Graduate)